'Walking the line' is a term originating in the 1800s to describe a thin line around the perimeter of a prison exercise area. A prisoner was punished for any deviation from this line. It was later popularised in the music of Johnny Cash. Today 'walking the line' more commonly refers to finding the balance between two extremes in a given situation. ASICS are required to 'walk the line' in footwear manufacturing and design, blending comfort and functionality with the aesthetics of the shoe. Deviate in either direction too far and the consequences will be poor sales or, worse still, a poor performing shoe.
ASICS was one of the first brands I became aware of that focused on a dedicated walking shoe, and the Gel Odyssey range has been a part of the ASICS line-up for as long as I can remember. Part of their 2013 Gel Odyssey range, however, takes another step forward, incorporating the technical components of a well constructed and balanced walking shoe with the requirements of a workplace dress/casual shoe.
I was looking forward to trialling this revised stalwart of the ASICS walking range for several reasons:
I am often frustrated by the lack of technical follow through and comfort of some dress shoes and the basic level of engineering by some brands in their fashion ranges. The contrast between activity focus and style is traditionally well demarcated.
I was interested to see the new aesthetics and refined style of this shoe, particularly with the significant input of Jason Mansfield, a New Zealand trained podiatrist who has risen through the ranks. Jason began as a podiatrist and is now an important cog in the ASICS footwear design team after being employed a few years ago by the ASICS Australian team.
There were doubts in my mind about whether an activity-based shoe could really be passed off as a smart work shoe. And would it really deliver more comfort than my other work shoes? We all spend a reasonable amount of time at work so best we be comfortable. I have tried several different brands and styles over the years.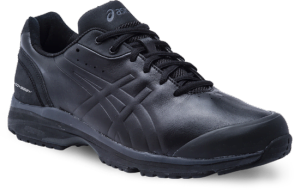 The result? The ASICS Gel Odyssey range's total revamp has produced a genuinely new shoe design.
KEY FEATURES:
Standard colouring (black) of the whole shoe allows better work/casual application.
Greater base for added stability.
New Upper design and full grain soft leather upper
New buck, fine leather inside heel counter protection to prevent wear through in the heel area. (This has been a problem in the past)
Added Width Options – Men's 2E and Women's D with dedicated width lasts
Centred Bevel heel to reduce heel strike impact on hard surfaces; when walking this flows through to the guidance line, transitioning through the mid to forefoot
Forefoot and Rearfoot gel is retained from previous models for comfort
Less duomax reduces the weight but, more importantly I think, reduces the likelihood of upper distortion due to uneven midsole compression. This is particularly important given the soft full grain leather uppers which aid comfort but which can be distorted in time if balance in the shoe is not good. This is also particularly relevant when adding an orthotic to the shoe.
After wearing this shoe for two months I would certainly recommend it as a smart and comfortable walking shoe that also works well with smart casual or semi-formal work clothes. I believe ASICS have taken a firm step in the right direction towards a comfortable, functional working and walking option.
The increased level of comfort has been a pleasant surprise. I think this is particularly relevant for those in professional work who spend significant time on their feet, such as health and hospital workers, retailers, and teachers. Active travellers who want to cover several options with a single shoe would also be pleased with this shoe.
It really is more comfortable wearing this around the long concrete hospital corridors than any other traditional work shoe I have owned.
Does a good shoe really make a difference?
A 60 year old patient of mine headed off for her 10 week adult OE. Two weeks into her travels disaster struck. She "twisted on her feet at the beach and felt some pain in one forefoot". The travel medicos were confident it wasn't a serious injury and she considered the pain "liveable", especially as she was already taking pain relief for hip problems.
On the patient's return we discussed the issue, which hadn't resolved. Due to the location of the problem, mechanism of injury, palpable changes in the forefoot and time since the injury (as well as the fact she was due to be going away again for a barefoot holiday in Rarotonga), we considered the possibility of a fracture and decided to proceed to x-ray. On further questioning, it became apparent that the one thing which allowed her to continue being active following the injury was her ASICS Gel Odyssey walking shoes that she was routinely using. "These were the only shoes that I could walk in without getting significant pain in the foot".