At Waikato Podiatry we're big on feet
We are fascinated by their complexity and the many ways they can trip us up (figuratively not literally!) or slow us down.
When you visit us you'll enjoy our relaxed but professional clinic environment, the interest we take in understanding what your feet need to do for you and our skill in helping you achieve your goals.
Since 2000 Andrew Jones, the owner of Waikato Podiatry, has been keeping elite athletes performing at their best as well as solving many difficult health-related foot problems and injuries.
Now our clinic's top team of podiatrists have joined forces to bring the best possible podiatry care to the Waikato and with two locations there is a Waikato Podiatry Clinic near you.
Our Beliefs - Our Strengths - Our Values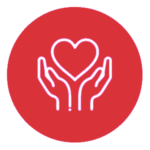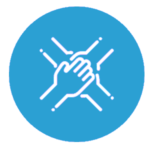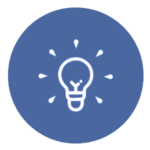 We Strive To Find Better Ways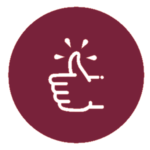 Awesome Outcomes & Experiences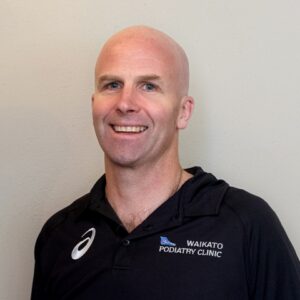 From an early age, I had a great love of sport, exercise and the outdoors (growing up on a sheep farm you have little choice), and the human body fascinated me. So it was a natural step in 1990 for me to enrol on a physical education degree at Otago University. After graduating I returned to my long-time holiday job of shearing sheep on a full-time basis. Getting paid to exercise "perfect".
While shearing and training for The Fletcher Marathon I developed a foot problem. After much consternation about who to consult someone suggested I see a podiatrist. "A what?". It was then I started to learn about the wonderful world of Podiatry. What an interesting area and a great way to help people keep active as well as learning more about the human body. I was sold and made the big jump from sheep to feet graduating in 1998 as the top clinical and top orthotic student in my year.
My first podiatry job was at Capital Sports' Medicine in Wellington where I stayed for two years and in 2000 I made the decision to work for myself and purchased Waikato Podiatry Clinic. The rest as they say is history.
I'm really proud of what we are creating here at Waikato Podiatry. A centre of podiatry excellence for competitive athletes, amateur sports people, and anyone in the Waikato just wanting to stay active and healthy. We work hard for our patients and at the same time are always looking for ways to improve what we do and the results we get.
Now that you know a little bit about me I look forward to meeting you, and getting to know a bit about you, and helping you find a solution for your foot problem.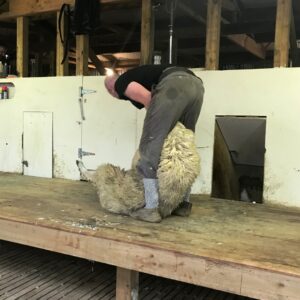 Andrew's 'Claims to Fame'

Member of Podiatry New Zealand

Accredited Podiatry New Zealand Sports Podiatrist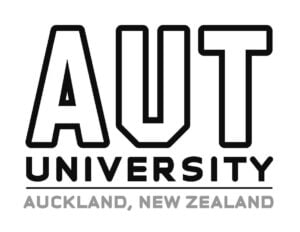 Guest Lecturer at the AUT Health Sciences School of Podiatry and member of their Graduate Training Programme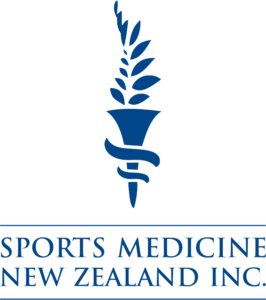 Member of Sports Medicine New Zealand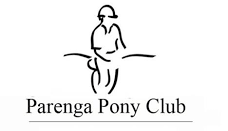 Parenga Pony Club President - because I don't have enough on my plate!
I was born and bred in the Waikato in the rural family environment around farming.
I started working at Waikato Podiatry in 2018 which has provided a great opportunity for me to learn about medical conditions, running a business and sports related injuries as well as meeting a large cross section of people.
I really enjoy the learnings and the challenge of providing excellent customer service and a friendly welcome.
Away from work family is really important to me, my family is of Croatian descent.
I used to do competitive cheerleading throughout my younger years, tumbling was my real passion.
I enjoy the outdoors, mountain biking, and taking my German shorthaired Pointer dog Ida to the beach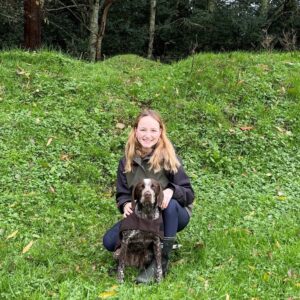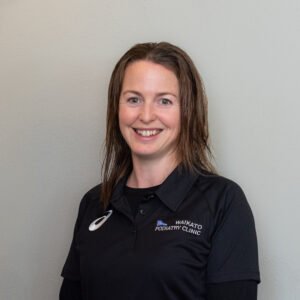 I have worked in all areas of Podiatry treating a wide range of problems for 20 years, including high risk diabetic patients through to recreational athletes and elite athletes through the NZ Academy of Sports.
I am an experienced dancer and aerobics instructor and have competed at a national level in competitive aerobics.
I grew up in Hastings and am the middle daughter of three girls.
I was first introduced to Podiatry when I suffered with my own foot problems at about the age of 8 years old. I was taken to a Podiatrist and given the right advice and treatment plan and my pain resolved.
I enjoy all areas of Podiatry especially biomechanical assessment across all ages and I have a wonderful following of regular patients.
I joined Waikato Podiatry in 2010 and enjoy the wide range of patients that come to the clinic. I look forward to meeting with you in the near future to support you with your podiatric needs.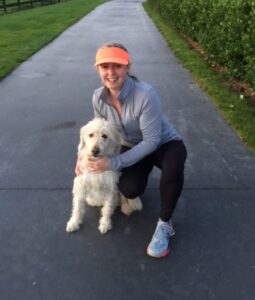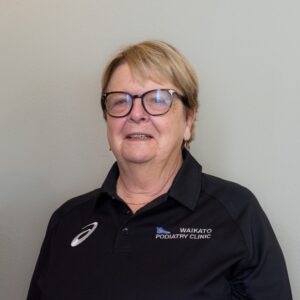 I joined the Waikato Podiatry team in 2017 as a part time Receptionist. I have worked in administration for 35 years. Born in Cambridge and have lived on the Waikato most of my life.
I moved to the Gold Coast to live in 2007 and returned back for grandchildren in 2015. I loved living and working over there, it was a great experience.
I enjoy working at Waikato Podiatry as I love helping and assisting people. I enjoy hearing and seeing how satisfied and happy clients are after they have had their appointments with one of our great podiatrists.
I enjoy traveling, reading, watching sports and spending time with the grandchildren.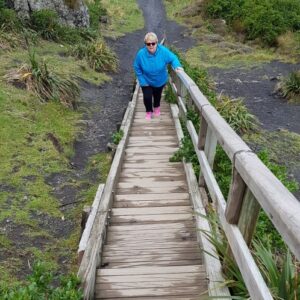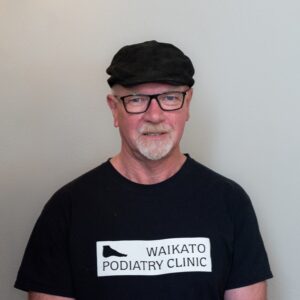 I have been employed by Waikato Podiatry as a General Maintenance Hand for 4 years, providing support for the "front line" team of podiatrists, administration/receptionists and lab technicians at both the Rototuna and Pembroke clinics.
This work includes routine servicing of the equipment used, repairing or arranging repair when any of these become faulted and providing comprehensive support to the lab technicians. I also look after the building and grounds at both sites.
This work is part-time which I find fills the void left following my 43 year career in Transpower Operations very well. I enjoy a quiet home life with my wife Margaret, my many grand and great grand children, armed with the remote control for watching Sky Sport and the odd glass of white wine.
I should confess to being a Highlanders supporter first (being born and raised in South Otago) and Chiefs second.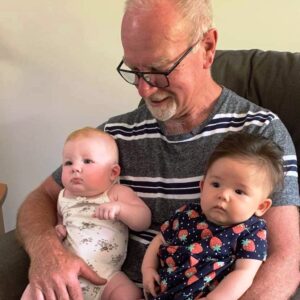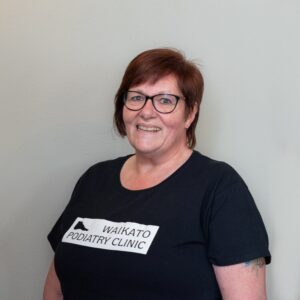 I have been in Hamilton since 1996, having previously lived in Christchurch after emigrating to NZ from Scotland (I was born in St Andrew's but I can't play golf!) when I was 7.
I get great satisfaction from delivering customer service, love getting to know our patients, and helping in any way I can to make their experience as good as possible.
Prior to joining the team at Waikato Podiatry as a Receptionist in 2016, I worked in clothing retail and managed a Chartwell women's clothing store for five years. I am actually a trained sewing machinist, a fact which is not lost on my family as they often ask me for repairs and alterations.
Away from work I also really enjoy knitting (let me know if you've got a great pattern I should try) as well as swimming and keeping fit at the local gym.
I joined the team at Waikato Podiatry in 2019 as a new team member having achieved the top academic award in my final year of university.
I love football and have been playing competitively for years. I am really proud to have represented New Zealand in the U-19's Oceania Football World Cup Qualifiers in 2017 and it's great that I am still playing football at a high level.
Before I started competing in football, I was a competitive middle-distance runner competing at a national level too.
Through the years of training and competing, I have had my own sporting injuries and that is what really inspired me to follow a career in Podiatry.
Now I am qualified I have a special interest in the sports and musculoskeletal aspects of Podiatry and helping our patients recover from injury and get back to playing or competing as quickly as possible.
I enjoy all aspects of Podiatry and the variety it offers with footcare, diabetes, Rheumatoid Arthritis and nail surgeries.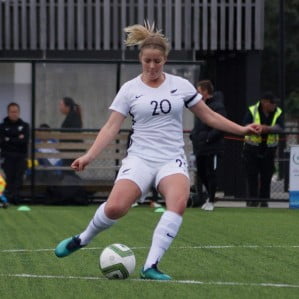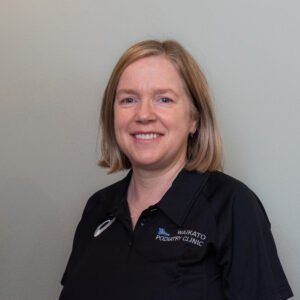 I am a highly skilled and experienced podiatrist and bring a caring and responsive approach to my patients' needs.
I really believe that anyone with a terminal or chronic health condition doesn't need to add foot pain to their existing difficulties. I am usually able to offer immediate relief to most discomfort and provide the ongoing care needed to prevent further problems.
During a 16 year OE in the UK, I qualified in podiatry at Northampton University. When I returned to my Waikato home turf I joined Waikato Podiatry and have become a long serving member of the team.
I love being outdoors and really appreciate how far your feet can take you when they're happy. But I know only too well how foot problems can stop you in your tracks.
I am able to get out regularly to enjoy New Zealand's great walking tracks and snowfields, to recharge my batteries.
What I love the most is being able to offer relief to my patients' discomfort – instantly in most cases – and the ongoing care to prevent further problems.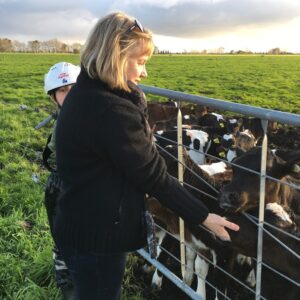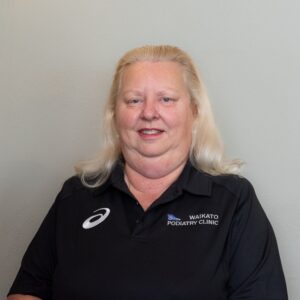 I have lived in Te Awamutu New Zealand since 1989, having emigrated from England with my late husband and 2 children.  Most of my family are also here.
I started at Waikato Podiatry in October 2015 as part of the reception/Administration team, I specialise in ACC and Accounts.  I previously worked for 9 years at Te Awamutu Medical Centre.
The part of the job I enjoy the most is the teamwork and camaraderie of the staff and management. I also really enjoy our patient contact, especially our regulars but also like meeting new patients.
Away from work I love to travel overseas (pre-covid of course, now I am loving being a tourist in NZ).  I also love to read novels, swim, and really enjoy days out to the beach.
I love spending time with my family, I have a daughter and son, also 3 grandsons and 2 great grand-daughters, we get together on many occasions.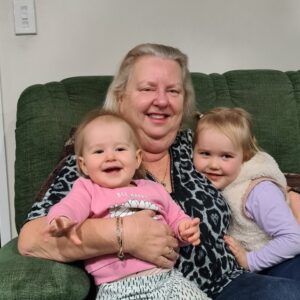 I've always lived in Hamilton and came to Waikato Podiatry as a patient years before starting work here as senior admin in 2020.
I enjoy the positive working environment at Waikato Podiatry and the awesome friendly team who welcomed me and made me feel at home from the first day.
Outside work I am an animal rights activist, speaking up and organising actions on behalf of the innocent animals whose lives are sacrificed for human greed every day.
I have three awesome children, two of whom live with me along with eight small animals who also share our home.
I played roller derby for four years before taking a break in 2021 and I love spending time at the beach and swimming in the sea.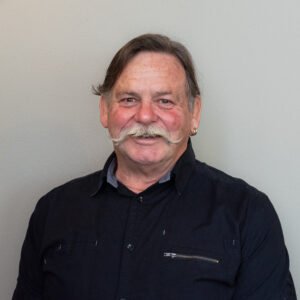 I am originally from Gisborne, and I trained as an Orthotist directly out of school. And have now been a clinical orthotist for over 40 years.
I have practiced my profession in Wellington, Sydney, and for the last 8 years in Hamilton
Having done advanced courses in upholstery, welding, plastic technology, and prosthetics I have all the skills I need to help our patients.
Before coming to Waikato Podiatry in 2014 I worked in a number of hospitals and Orthotics Departments in Gisborne, Hamilton, and Wellington Hospitals, as well as Orthopaedic Departments and appliances in Lower Limb Centre in Sydney.
My interests include building and renovation, motorcycling, classic American cars, and caravanning.
I love riding my bike around the north island on a clear crisp day and would love to ride route 66 at some time.
I really enjoy my job at Waikato Podiatry and love going to work. Personally, I get a great sense of satisfaction helping the Podiatrists execute their treatments and take pride in the work I do helping people stay active and comfortable.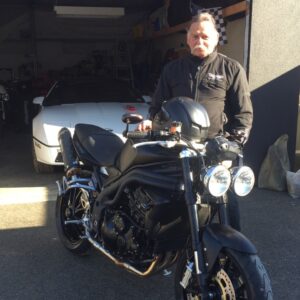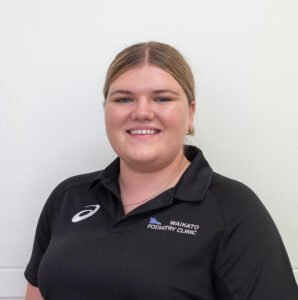 I joined Waikato Podiatry in early 2020 as a new graduate podiatrist which was a bit daunting but the team is great and really made me feel at home here.
I grew up in Hamilton and attended Hillcrest High School where I enjoyed playing both Netball and Lacrosse. I went on to teach lacrosse at a camp in America which was a fantastic experience.
I really enjoy all aspects of podiatry and I am becoming more and more interested in activity based foot and leg pain. This comes partly from my enjoyment of adventurous activities and tramping in my spare time.
I am particularly interested in helping others with foot pain, whether that be helping someone to walk comfortably and keeping their independence or helping someone who is training for a marathon.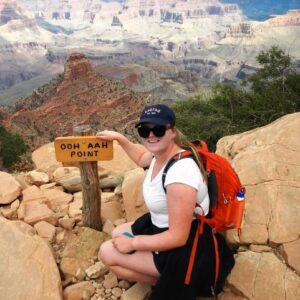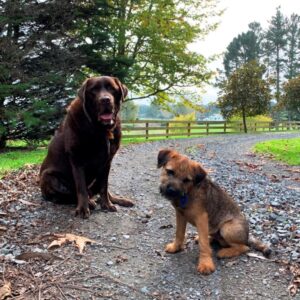 Billy
I am a 10 year old chocolate lab and have lived with the Jones family all my life. I love going to work with Andrew especially during the school holidays and hanging with the Waikato Podiatry team out the back .If you see me around at the practice be sure to come and say hi and maybe give me a back scratch (please!).
Away from the practice my favourite things are relaxing on the couch and hunting out extra food (I'm very good at that). There is always something the humans have not noticed that I can reach
.
Louie
I am an 8 month old border terrier so have not been with the Jones family very long. I'm getting used to hanging with my new friend Billy and have been allowed to go to the practice in the school holidays too. If you see me looking super cute out the back, be sure to give me a little belly rub (I loooove belly rubs).
Away from Waikato Podiatry my hobbies mostly involve tormenting Pebbles the cat and Billy
. It's a great sport.
Together we enjoy going for walks around Te Kowhai Golf Club and WhataWhata school.