Waikato Podiatry Clinic Rototuna
Where you'll find the Waikato Podiatry Clinic Rototuna
Waikato Podiatry Rototuna Clinic is really close to the center of Rototuna, just up Thomas Road from the shops. Sue's acupuncture clinic is right beside us in a joint building.
There is ample flat parking with multiple ramps for great access.
How to Reach our Podiatrists in Rototuna
You will find us easily just on the right-hand side of Thomas Road walking away from Rototuna shops towards Gordonton Road.
There are bus stops just down the road from the Waikato Podiatry Rototuna clinic on the Rototuna Circular route, stop 2372 going into town, and stop 2400 coming out of town.
Driving away from the shops at Rototuna on Thomas Road towards Gordonton Rd you'll see us on the right-hand side and we've got plenty of parking right outside the door.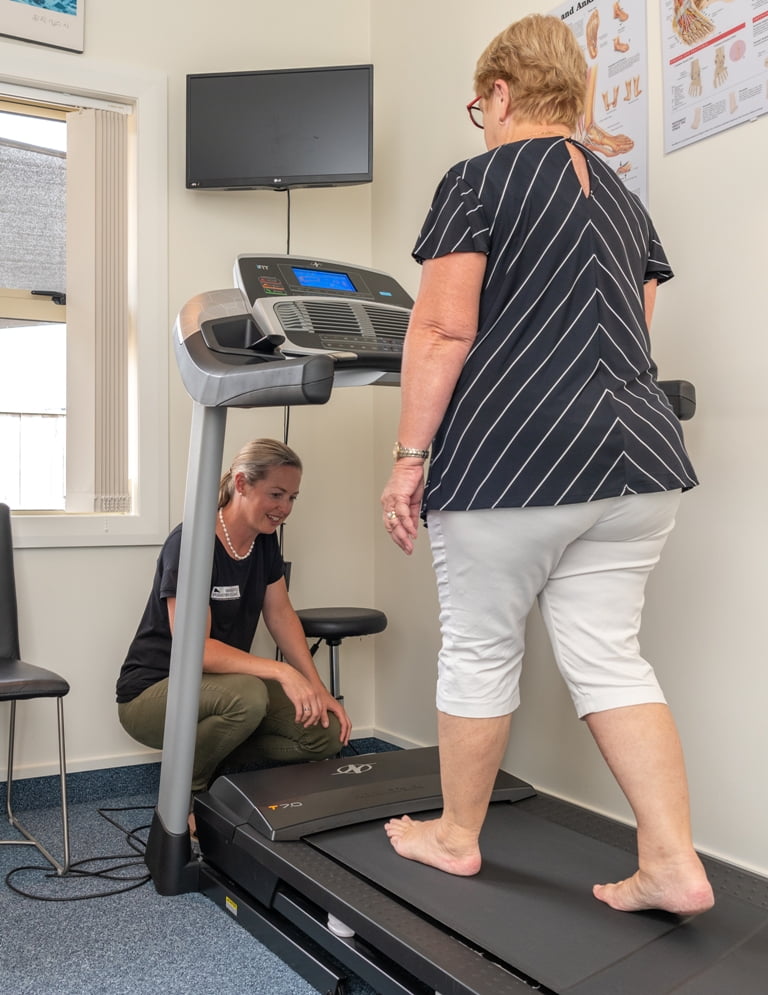 Waikato Podiatry Rototuna Clinic NZ - Opening Times
| | |
| --- | --- |
| Mon: | 8:30 - 5:00 |
| Tue: | 8:30 - 5:00 |
| Wed: | 8:30 - 5:00 |
| Thu: | 8:30 - 5:00 |
| Fri: | 8:30 - 5:00 |
| Sat: | Closed |
| Sun: | Closed |
Emergency after hours by arrangement only.
Inside Waikato Podiatry Rototuna Clinic
The clinic has three purpose-built consultation rooms, a large sunny reception area, and lots of footwear on display. Often people like to try on our shoes while they visit. So, if you've got time you'd be welcome to do that too.
At our Rototuna clinic, we have a dedicated specialist gait assessment room and a grass-running strip out the back for real-time rugby or football boot evaluation.
Here at Waikato Podiatry Rototuna, we take pride in making your whole visit enjoyable and have great books and magazines to browse if you are waiting, as well as a client bathroom that's wheelchair friendly, and if you fancy a cup of tea or need some water you only need to ask.
Our other Clinics: Waikato Podiatry Hamilton
"We are here in Rototuna to free you from foot and leg pain to lead an active and healthy life – we make the first step as easy as possible for you to start the journey to your full recovery."
93A Thomas Rd, Huntington, Hamilton


I highly recommend Waikato Podiatry. They are an amazing team of professionals who genuinely care about their customers and helping them achieve their fitness goals. Andrew has been incredible to deal with.


A lovely and new, clean, warm clinic. The staff are super friendly and welcoming. I have dealt with Andrew for several years now for my podiatry needs and he is extremely knowledgeable and professional. He takes the time to understand you as an individual. He listens and works with you to achieve the desired supports you require. Andrew has always provided the solution for my orthotic requirements and I 150% recommend his knowledge and expertise if you ever require this service.

There isn't a simple answer to this question because it depends on the type and frequency of treatment that you need. Every condition is different. As a guide, our initial appointments at our Rototuna Waikato Podiatry clinic are $80 to $115 for an assessment and diagnosis depending on your condition. Please note ACC appointments are partially subsidised.
A podiatry assessment takes many forms depending on the problem you present with. At our Rototuna clinic our podiatrists have the knowledge, skills and equipment to assess and test your gait, joints, blood flow, nails and much more.
Here at our Rototuna clinic we have the facilities to do dynamic gait assessments on and off the treadmill plus a range of functional tests which allow us to view our patients in their specific sports environments. We also have a 20-point screening tool that we use to identify key functional problems.
For our patients with poor circulation or reduced sensation we have a range of tools to help us test and monitor progress of any disease condition. We are also able to order x-ray and ultrasound investigations externally if required.