The Risks of Getting Your Nails Done
Getting your Nails Done
Nail bars have significantly increased in their number and popularity in recent years. It is now commonplace to see them in shopping centres and on your local high street. Hygiene in nail bars is super important, as bacteria, fungi and viruses can be easily transferred from client to client if hygiene practices are not maintained.
Cutting cuticles, which is a practice commonly used in nail bars can increase the risk of infection. The use of heel blades to rid the feet of calluses and dry skin, as well as foot baths can also raise the risk.
A survey conducted of 57 Wellington nail bars, by the region's public health agency in 2018, showed that only 12% of operators had adequate disinfection and sterilisation practices. Only 39% of practitioners said they would stop the treatment if a client started bleeding. Less than half of the salons had properly trained staff members, and typically, the cheaper your manicure or pedicure, the less likely it is that your technician is properly trained.
What Qualification Should Nail Practitioners Have?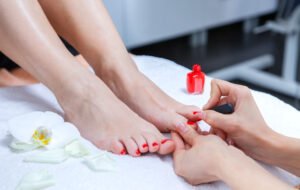 There is no national regulation of nail bars, which makes it difficult to know if you are visiting a reputable one. Only 12 councils have public health bylaws that apply to manicures and pedicures. Requirements can vary, from ensuring staff are 'adequately trained' to staff having a formal qualification.
These bylaws are in place to try and ensure that these services are carried out in a safe and hygienic manner. However, last year, 30 complaints were recorded. Unhygienic practices were the main causes.
The only other hygiene standards in this industry are set by the New Zealand Association of Registered Beauty Professionals. Membership to this is voluntary though.
Risks From Chemicals Getting Your Nails Done
In 2017, two salons in Auckland were prosecuted for using a banned substance (methyl methacrylate – MMA) to apply acrylic nails. This substance can lead to reactions in the eyes and skin, as well as causing allergic reactions and possible respiratory problems.
Kiwi Nails and Spa was fined $13,500 for using this banned substance. Country Nails and Beauty were fined a higher amount of $15,750 because they had used MMA, but also decanted it into a bottle declaring 'No MMA' so staff were unaware they were using it.
How Can I Avoid Contracting a Fungal Infection When Having My Nails Done?
What can you do to avoid contracting fungus when getting your nails done? The best way is common sense, does the practice look clean and tidy? Does your nail technician look tidy and professional? Can they answer any queries that you have sufficiently? You should always be asked about any health conditions before you start, and your technician should evaluate your skin.
If your technician accidentally cuts you during the procedure, work should stop immediately. Cuticles should be pushed back with a rubber hoof stick, not cut.
If you are having acrylic nails, you should be told about the risks. The glues can cause allergic reactions.
What is in Nail Polish?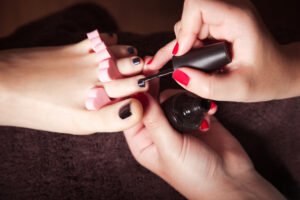 There are some extremely nasty ingredients in some nail polishes and it's best to check the ingredients before getting your nails done. Nail polish was inspired in the 1920's by automotive paint. The products we use today are made of similar ingredients:
Polymers
Solvents
Plasticisers
Colours
The main ingredient is polymer nitrocellulose, which is mixed with a solvent (ethyl acetate or butyl acetate) which evaporates, leaving the polymer to stick to the nail. The distinctive smell from nail polish comes from these solvents. The plasticisers are designed to stop the polish from cracking or chipping.
Dibutyl phthalate is a controversial ingredient. Formaldehyde resin and toluene have also attracted criticism due to their potential health effects. Formaldehyde resin helps the polish to stick to the nail and adds gloss. However, it can cause irritation and allergic reactions, so levels are restricted to 5%. Toluene can affect the nervous system and can cause nausea, tiredness, and dizziness. Levels of this chemical are restricted to 25%.
You may also discover microplastics in your nail varnish, many of the big brands use these. Microbeads are banned from soap and other washing products; nail polish can still contain them. The EU is proposing to ban ALL added microplastics.
If you wish to avoid microplastics, the ingredients you need to avoid are:
Polyethylene (PE)
Polypropylene (PP)
Polyethylene terephthalate (PET)
Polymethyl Methacrylate (PMMA)
Nylon (PA)
Do You Have Problem Nails?
Are you are feeling like you have tried everything but are still suffering from problems with your toenails perhaps after getting your nails done?
Do you feel like you have seen every health practitioner you can about your problem toenails with no results?
We have a track record of diagnosing and successfully treating cases that have previously proven difficult to resolve and we'd love to help you get the problem sorted.