Stepping up for the Climb Against Cancer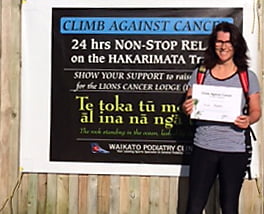 Inspired by friends recently diagnosed with cancer, Andrew Jones has co-organised a 24 hour fundraiser for the Lions Cancer Lodge in Hamilton. If 25 people climbed the 1349 steps of the Hakarimata Track they would have climbed the height of Mt Everest.
But hundreds of people stepped up to the challenge, summiting the peak more than 300 times – including several of our hardy team – and raising about $4000 for the lodge. Outstanding!
Pictured is our Maz, with her certificate for climbing to the top and back.